Boy, 6, dies in hospital after Ilkeston house fire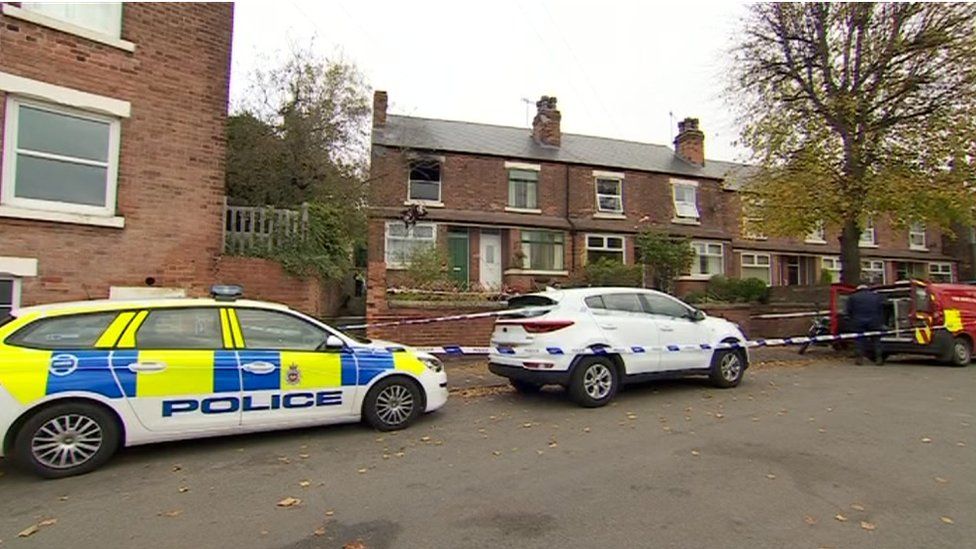 A six-year-old boy has died after a house fire in Ilkeston.
Derbyshire Fire and Rescue Service said they were called to a property on Shaw Street West at about 22:40 BST on Friday.
They performed CPR on the boy before he was taken to Queen's Medical Centre in Nottingham, but he was later pronounced dead.
The fire service and Derbyshire Police have launched a joint investigation into the cause of the blaze.
Neighbour Jack Hill said his wife heard "a mother's scream" while they were going to bed, so he ran in and went upstairs to try and save the child, who he had been told was in the front room.
After finding the stairs "virtually engulfed" in flames he got a wet towel from his house and went to a local Chinese takeaway to get a fire extinguisher.
"I ran back up stairs, put the towel around my face [and] tried to put the flames out," he said.
"I tried to break the door down with the fire extinguisher. I couldn't get up because the smoke was that thick, so I stayed there until the fire engine came."
Mr Hill said he was "devastated" by the child's death, and described the family as "very nice".
Local resident Brian Smith said he was going to bed when he heard "all this screaming and shouting" and saw the flashing lights from the fire engines.
He said cars parked on the corner of the road got in the way of the ambulance arriving at the scene.
"We've been trying to get that corner cleared, but nothing's been done about it," he said.
Three crews attended the fire at its peak, the service confirmed.
Rob Taylor, group manager for Derbyshire Fire and Rescue Service, said the front of the house was the main part of the building that was damaged.
"It's a very difficult incident for the community and the crews to deal with, especially as it's a young child," he said.
Related Internet Links
The BBC is not responsible for the content of external sites.