Derby man's car boot toothbrush holder is ancient pot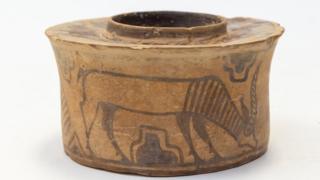 A pot bought for £4 at a car boot sale and used as a toothbrush holder has turned out to be 4,000 years old.
Karl Martin said he picked up the jar, featuring an antelope, at the market in Willington, Derbyshire, five years ago.
The 49-year-old said he now "feels a bit guilty" for keeping the "genuine ancient antiquity" in his bathroom.
Auctioneer James Brenchley said the Indus Valley Harappan civilisation jar, which sold for £80 at auction, was made in 1900 BC.
Mr Martin, from Derby, who has a passion for all things old, quirky and collectable, said he "liked it straight away" and bought the pot along with another for £4.
"I used it in the bathroom to store my toothpaste and toothbrush - it even ended up getting a few toothpaste marks on it.
"I suspected it might be very old but forgot all about it."
The keen collector, who works for Hansons Auctioneers, said: "I was helping to unload a van and noticed some pottery which was similar to my toothbrush pot.
"The painting style looked the same and it had similar crudely-painted animal figures."
Mr Brenchley, from the auction house, said the Bronze Age civilisation was "primarily located in modern-day India and Pakistan as well as Afghanistan".
"Along with Ancient Egypt and Mesopotamia, it was one of three early cradles of civilisations of the Old World, and of the three, the most widespread," he said.
Mr Martin added: "It's amazing, really. How it ended up at a south Derbyshire car boot sale, I'll never know."
Follow BBC East Midlands on Facebook, Twitter, or Instagram. Send your story ideas to eastmidsnews@bbc.co.uk.