Riley Jake Jackson death: Are halogen light bulbs safe?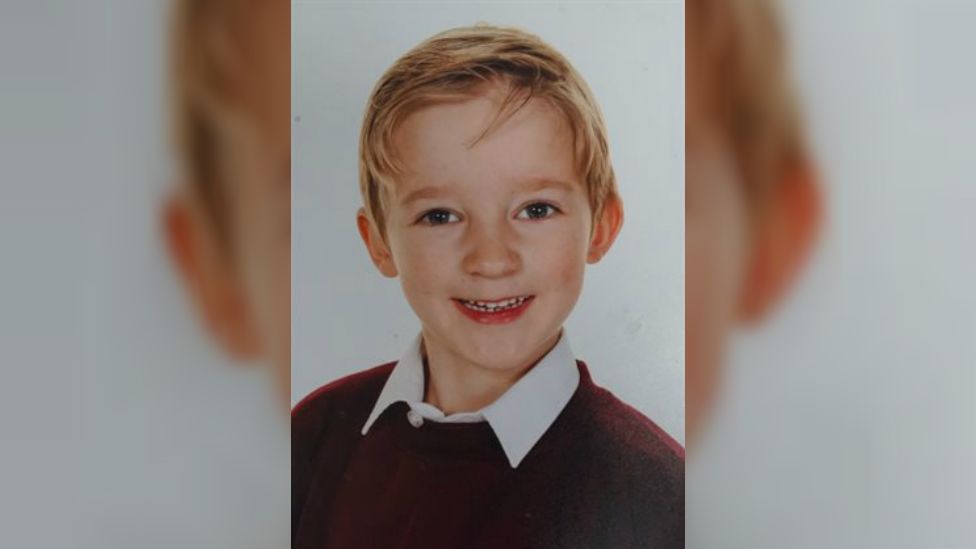 The death of a six-year-old boy in a house fire in Derbyshire has raised questions about the continued use of halogen bulbs in homes.
Riley Jake Jackson died in hospital from "fire-related burns and carbon monoxide toxicity" after being rescued from a house in Ilkeston in October.
So how safe are halogen bulbs and why have they been banned?
How dangerous are halogen bulbs?
Coroner Robert Hunter recorded a conclusion of accidental death but expressed concerns halogen bulbs were still widely available to buy.
Halogen bulbs are seen as a bigger safety risk than modern LED bulbs as they reach higher temperatures, creating a fire risk if they come into contact with flammable materials.
In Riley's case, the inquest was told his bedside lamp had fallen over and the heat from the bulb had caused the lamp shade to set alight.
However, retailers are allowed to sell remaining stocks and there are no restrictions on them being used.
How can parents keep their children safe?
Child Safety Europe recommends parents opt for LED lamps, which do not produce as much heat as halogen bulbs.
They said lamps should be placed a safe distance from pillows and duvets to avoid being knocked over and children should be discouraged from pulling them under the covers to create a "cosy tent feeling".
Should we throw away our halogen bulbs?
Prevention area manager Rob Taylor, from Derbyshire Fire and Rescue Service, said the fire which caused Riley's death was "devastating".
He said following the inquest, "our aim now is to raise awareness regarding the temperatures that halogen bulbs burn and ensure people are aware of the potential fire hazard lamps with halogen bulbs pose if they fall over and come into contact with combustible materials".
Derbyshire Fire and Rescue Service has now issued safety advice around the use of lamps:
Replace halogen bulbs with LED bulbs: LED bulbs burn at significantly lower temperatures than halogen bulbs, which can reach up to 200C
Always use a lampshade on lamps
Place lamps on a stable surface
Ensure wires and cables aren't stretched across the floor and that they don't present a trip hazard
Consider where lamps are in children's bedrooms and whether they are near to combustible materials, especially if they like to make dens
Keep the immediate area around a lamp clear
How can I tell if my bulbs are halogen?
The best place to check is the box but failing that, halogen bulbs are distinguished by their bulb-within-a-bulb appearance.
What does the government say?
At the inquest, Dr Hunter told the court he would be writing to the government about the issue of halogen bulbs still being available to buy.
A spokeswoman for the Department for Business, Energy and Industrial Strategy said: "The government's top priority is to protect consumers from harmful products. The EU ban on halogen bulbs was brought in for energy efficiency reasons rather than because of any safety issue.
"Regardless, halogen light bulbs are covered by existing UK regulations that require them to be safe when sold."
Related Internet Links
The BBC is not responsible for the content of external sites.