Election results: Labour lose control of Bolsover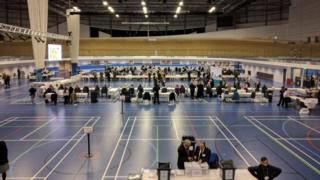 Labour has lost control of Bolsover District Council for the first time in more than 40 years.
The party slipped from 32 councillors to 18, one shy of a majority.
North East Derbyshire was also lost by Labour, with their seats dropping 35 to 18 and giving the Tories the majority.
Elsewhere, the Conservatives are now the largest party on Derby City Council for the first time since 1992, but the Tories lost control of Amber Valley Borough Council to Labour.
And the Tories held South Derbyshire, Erewash, and also Derbyshire Dales but with a majority of just one there.
But they lost control of the High Peak Borough Council to Labour, with Labour gaining five seats and the Conservatives losing seven.
With 17 of Derby City Council's 51 seats being contested, the authority remained under no overall control as Labour lost six of 11 seats it was contesting.
The Tories, who ran the council last year in coalition with the Lib Dems and UKIP, picked up one ward but failed to secure a majority.
The Lib Dems increased their presence on the council from five seats to seven, while UKIP enjoyed similar success and now has five councillors.
Analysis
By Liz Roberts, BBC Sheffield political reporter
It was an unbelievable result in Bolsover, where the council goes to no overall control and with Labour losing almost half its seats from 32 to 18 - mainly to independents.
By my calculation there are now 20 brand new councillors and 17 with previous experience.
Two of the Labour wins were in an uncontested seat.
I bet they're thanking their lucky stars.
Turnout was 35.9% - down from 38.7% last year.
Labour's losses included its local deputy leader and a former council leader.
Derby Labour leader Lisa Eldret admitted it had been a bad night for the party and said she had never known a local election where national issues were so dominant.
Chris Poulter, Conservative leader, said he was "delighted" as his party became the biggest in the city for the first time since 1992.
In the Derbyshire Dales, the Conservatives retained control, but now have only 20 councillors, down from 29. The Lib Dems increased their numbers from three to eight while Labour now have six councillors. There are also three independents and two Greens.
Bolsover has been represented in Parliament by the veteran Labour MP Dennis Skinner - known as the Beast of Bolsover - since 1970.
There are now 16 independents, two Tories and one Lib Dem councillors.
Labour took control of Amber Valley Borough Council despite the suspension of its Belper Central candidate Neil Ploughman over alleged anti-Semitic social media posts.
While Labour held Chesterfield Borough Council, despite losing 10 seats.
The Green Party also secured a first representative on the authority with a win in Duffield.
Either search using your postcode or council name or click around the map to show local results.