Ancient Peak District stone circle damaged by campfires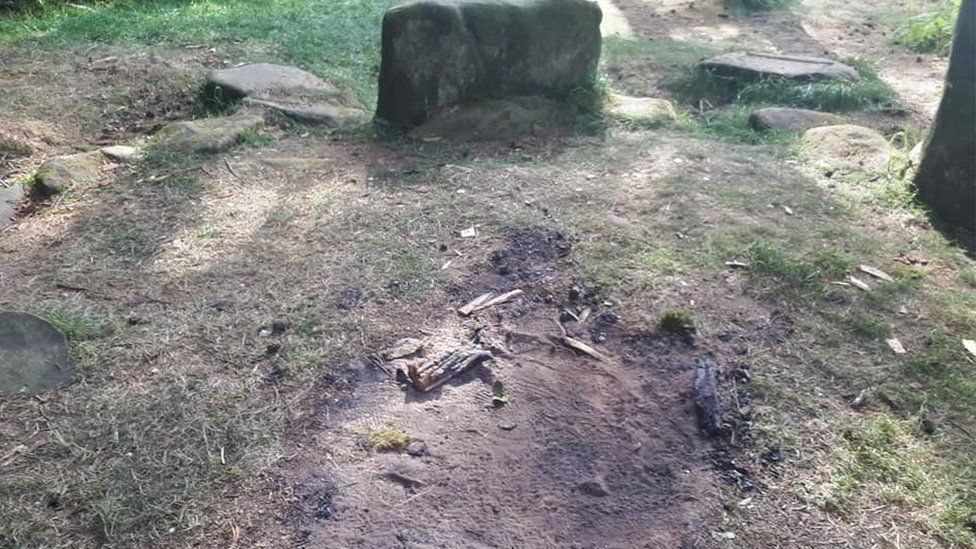 "Serious" damage to a scheduled ancient monument in Derbyshire is being investigated by police.
The prehistoric Doll Tor stone circle, near Birchover in the Peak District, was targeted some time in the past few days.
Sam Grimshaw, who discovered the damage, said he was "very angry" when he found some smaller stones had been moved and several fires had been set.
Historic England has appealed to anyone with information to contact police.
Mr Grimshaw said he found stones had been moved to build a fire pit and for a seat, while other fires had been set.
"Once I'd realised what I was seeing I became very angry, and a great feeling of sadness came over me as I saw more and more stones removed," he said.
"I was amazed at the effort that had been put in to move some of the stones, I couldn't quite believe it."
The monument likely dates from the earlier part of the Bronze Age (c. 2500 until c. 800 BC)
The small circle formed part of a larger complex with a ditch, cairn (stone mound) and nearby boulders possibly associated
Human bones, along with bronze and flint tools, have been found at the site
It was likely a place of burial, ritual and possibly an area reserved for seasonal celebrations
A spokesman for Historic England said: "As a scheduled monument, Doll Tor stone circle and adjacent stone cairn is a nationally important archaeological site and protected by law.
"This site forms an important part of our shared past and the preservation of the standing stones, cairn, buried archaeology and other features is vital in helping us to understand the ritual importance of this site and the beliefs of prehistoric peoples."
Historic England said it was working with Derbyshire Police, the private landowner and the Peak District National Park to investigate the crime.
Related Internet Links
The BBC is not responsible for the content of external sites.