Ashbourne black man's head pub sign removed amid racism row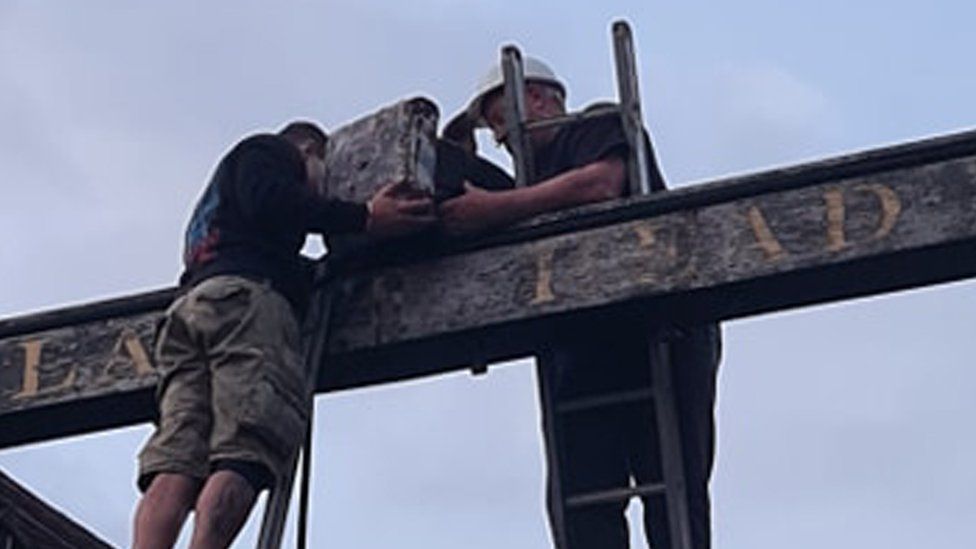 A figure of a black man's head has been removed from a pub sign amid a row over racism.
About 150 residents gathered to take down the figure, vowing to return it, before the council could act.
A petition to remove the head, launched on Friday, has gathered more than 40,000 signatures.
Ashbourne resident Mark Redfern said the head, which is part of the Grade II*-listed sign for The Green Man & Black's Head Royal Hotel in St John Street, "will be restored while on the ground and returned to its position at a later date".
He said local councillors witnessed the removal.
In a Facebook post, Mr Redfern said the head would be given "a lick of black paint", and claimed the move was to save it from vandalism.
His son, 17-year-old Shaun Redfern, has gathered more than 4,000 signatures on a petition calling for the head to remain for historical reasons.
Resident Darren Waring, who said he was involved in taking down the feature, said: "People are making these racist overtures without knowing the facts."
He said the figure is a head of a Turkish man who came to Ashbourne hundreds of years ago and traded coffee.
"He brought prosperity. He was a well-respected and well-loved Turkish man so in his honour they put his head up. It has nothing to do with slavery," he said.
He added in the 1980s, he went up to the sign to restore it with his father.
"The sign was actually dark brown," he said. "My dad explained to me this is a Turkish man, not a black man. It was painted brown then something has gone wrong in the restoration."
Derbyshire Dales District Council's decision to remove the head followed the statue of a slave trader in Bristol being torn down during demonstrations on Sunday.
A council spokesman said a councillor spoke to the group, explaining the council needed to take down the figure temporarily in the interests of public safety ahead of a consultation.
He said: "The group, who had ladders, then decided they would remove the figure themselves for safe keeping and, not wanting to create a confrontation, in the circumstances we did not object.
"We expect to have possession of the head figure later today."
Historic England said: "As the government's adviser on heritage, we will be ready to advise the council on next steps if they need it."
One 20-year-old anthropology student from the town - who did not want to be named - said the sign resembled a gollywog, a 19th Century rag doll which is largely considered racist.
"I think people are ashamed of it," she said.
Matthew Holt, a 19-year-old international relations student from Ashbourne, said: "It should be in a museum where we can learn about it with a description to contextualise it."
Councillor Barry Lewis, Derbyshire's County Council leader, said the figure should not be taken down, although it was "clearly culturally insensitive and racist".
He added: "Cultural heritage is there to challenge us sometimes, to make us uncomfortable."
A Derbyshire Police spokesman said officers attended from 21:00 until 23:00 BST to "monitor the situation and ensure there were no breaches of the peace".
"There were no arrests," he said.
Related Internet Links
The BBC is not responsible for the content of external sites.