Covid: MPs call for more clarity on local lockdowns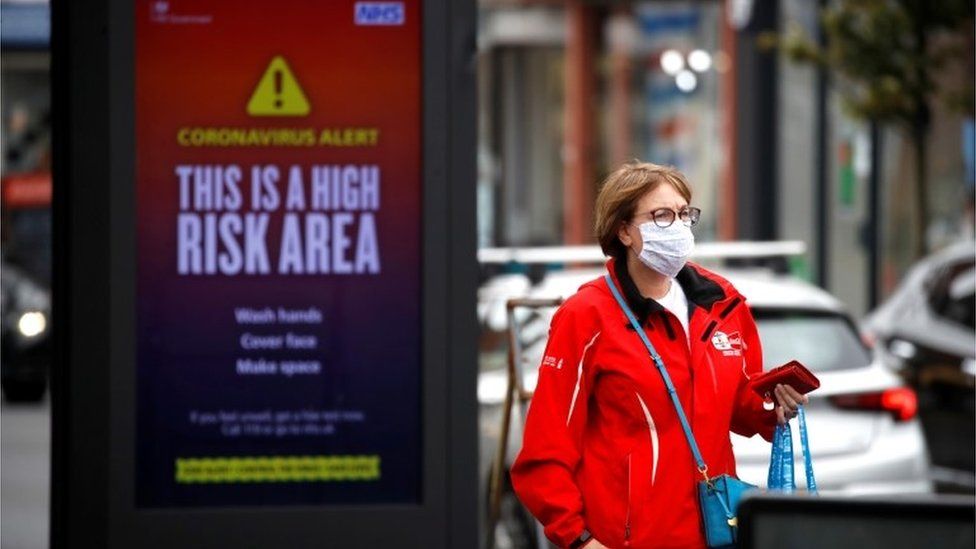 MPs from the Midlands and northern England are calling for more detail on possible plans to close restaurants and pubs in areas worst-hit by coronavirus.
They met ministers earlier, with some venting frustration about potential restrictions appearing in newspapers before being announced in Parliament.
The government said it was trying to create "greater consistency on rules".
There were 17,540 new cases of coronavirus recorded in the UK on Thursday, up from the 14,162 reported the day before, government data showed. A further 77 people died after testing positive for the virus within 28 days.
MPs took part in a video call with health ministers Nadine Dorries and Edward Argar - and England's chief medical officer Chris Whitty - earlier on Thursday.
The chief medical officer presented evidence to the MPs that a "significant proportion" of exposure to coronavirus was happening in the hospitality sector - but nothing more was shown on the scope, severity, timing or precise location of any new restrictions.
Yet again, ministers are wrestling with grim trade-offs where no decision is pain-free.
But they're also wrestling with a communications challenge: what do you do when newspapers have been briefed that "Restaurants and pubs in North forced to shut again", as the Times front page headline reads today, but it hasn't yet been formally decided and announced?
Well, a cabinet minister ends up doing a round of interviews where he or she can't answer any of the key questions directly: precisely which parts of the country will be affected by the new regulations, when, for how long, and how severe will they be?
Cue noisy grumbles from local leaders in those cities with sky-high infection rates, who don't know what is going to happen.
Yes, most of those leaders are Labour politicians not averse to complaining about a Conservative government, but ministers are left with an announcement that appears half-made: the prospect that various businesses may have to close or significantly scale back what they do, but without it being clear which ones, or where.
Profound changes affecting millions of people hover as an imminent prospect. But ask a specific question, and the answer is we don't know.
Shadow health minister Alex Norris, an MP for Nottingham North - now the city with the highest case numbers in England - told BBC News: "It was not the most convincing call to be part of."
"When pressed about Nottingham, the advice that came back was, 'We've not decided yet,' which is hard to understand when I have then talked to local journalists and they are getting better briefings than we are."
He said he understood new restrictions would be coming in next week, adding he believed they should come in immediately "given we are top of the list now".
Ben Bradley, Conservative MP for Mansfield in Nottinghamshire, who took part in the call, said: "There are some really challenging circumstances.
"We talked about the North West and North East in particular, where we were talking about - in three weeks' time - having hospitalisation levels higher than in the original peak."
He said ministers had told the MPs to expect new measures to be announced on Monday and implemented on Wednesday.
The meeting came amid growing anger among politicians about the way the government has handled new restrictions in parts of the country with high infection rates.
Labour's mayor of Greater Manchester, Andy Burnham, told the BBC he had been "having discussions with ministers this week. At no point did somebody say, 'We're closing all hospitality in the north of England on Monday.'"
Former minister Jake Berry, the Conservative MP for Rossendale and Darwen, has accused the prime minister of enjoying his emergency powers "a little bit too much" and of being "London-centric".
The Conservative MP for Bishop Auckland, Dehenna Davidson, said in the Commons that the government was "exactly right to take a localised approach".
But she said the public in some areas of her constituency did not understand why they faced local restrictions when case numbers were low.
Liverpool's Labour Metro Mayor, Steve Rotheram, said the "North should not be a petri dish for experimentation by central government".
MPs have also expressed unease about the "rule of six" and the 10pm curfew for pubs and restaurants, calling for the scientific rationale behind the measure to be made public.
Others on the left of the Labour Party, including former shadow chancellor John McDonnell, want a more "severe" lockdown. One told the BBC they wanted a "zero Covid approach - hard, fast and backed up by comprehensive testing and financial support".
Communities Secretary Robert Jenrick has not ruled out pubs being closed but said the response would be "proportionate and localised".
He told the BBC the precise measures for different areas would be announced "in the coming days".
Mr Jenrick added that the government was trying to give "greater consistency on rules so they're easier to understand" and was working on "slightly broader canvases of regions or cities and counties to avoid differences in people's daily lives if they drive over the border".
But details of how severe restrictions will be in each tier have yet to be confirmed.
This could mean extra limits to be turned on and off again to allow for Christmas, with the possibility of more being introduced in January and February to help the NHS cope.
But Laura Kuenssberg said the situation was "still unclear with so many unknowns" and final decisions have not been made.
The Liberal Democrats have written a letter to Chancellor Rishi Sunak, calling for the furlough scheme to be extended before enforcing any shutdowns of industries, such as hospitality and retail.