'Nationally significant' effigy found in Derbyshire church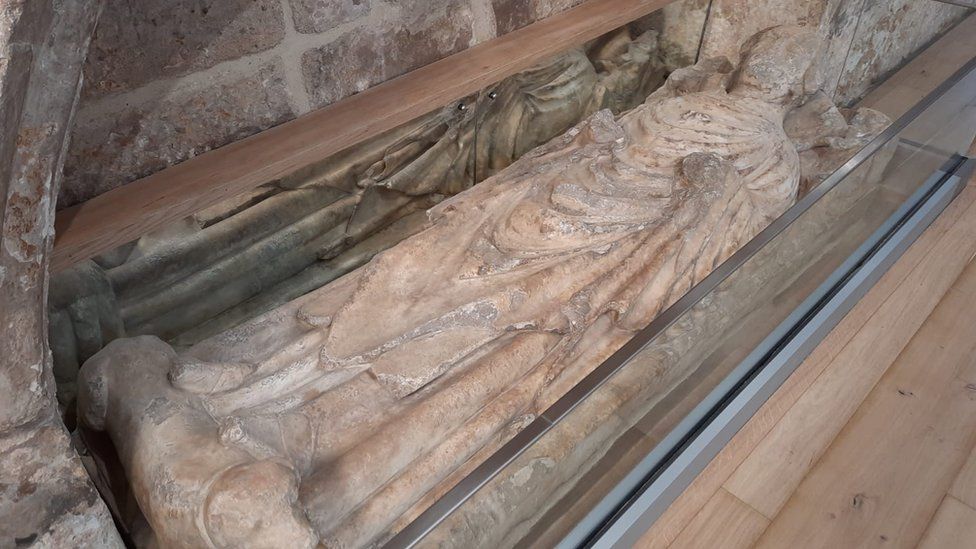 A forgotten 650-year-old sculpture found during work at a Derbyshire church has been described as "nationally significant".
The alabaster effigy at St Wilfrid's, in Barrow upon Trent, is one of the earliest such carvings known.
It is thought the unnamed figure could be a priest believed to have died in the Black Death.
The effigy, which was hidden behind an organ, was found while the church was undergoing an £800,000 refit.
The effigy's head is cradled by angels, with a dog nestled at its feet.
The tonne-and-half stone has suffered significant damage but enough was left to show its importance.
It is believed it might represent priest John de Belton, believed to have died in around 1350.
Dr David Carrington, who runs a conservation firm, said the sculpture was "one of the earliest such alabaster effigies".
"They became more common later in the 14th Century but there are only six or seven of this age so this was something of a trendsetter," he said.
"It is also the earliest known alabaster effigy of a priest, so it's nationally significant."
The monument has now been encased in protective glass, with a mirror positioned so visitors can see all of the intricate carving.
The Grade I-listed church was being converted into a community space when the sculpture was found.
Warden Anne Heathcote said: "Few people even knew the effigy existed, so it has been a complete joy to discover that he is so significant.
"Although his face has certainly been damaged, possibly during the Reformation, it is still possible to see the beauty and skill of the sculptor; his gown has exquisite patterns.
"After the conservator ran some tests on his medieval paintwork, it was discovered to be the oldest in existence and they found pure gold and samples of azurite, red, green and black paint."
The renovations have been backed by a £563,000 Heritage Lottery contribution, grants and fundraising.
Related Internet Links
The BBC is not responsible for the content of external sites.