Beavers reintroduced to parts of England and Wales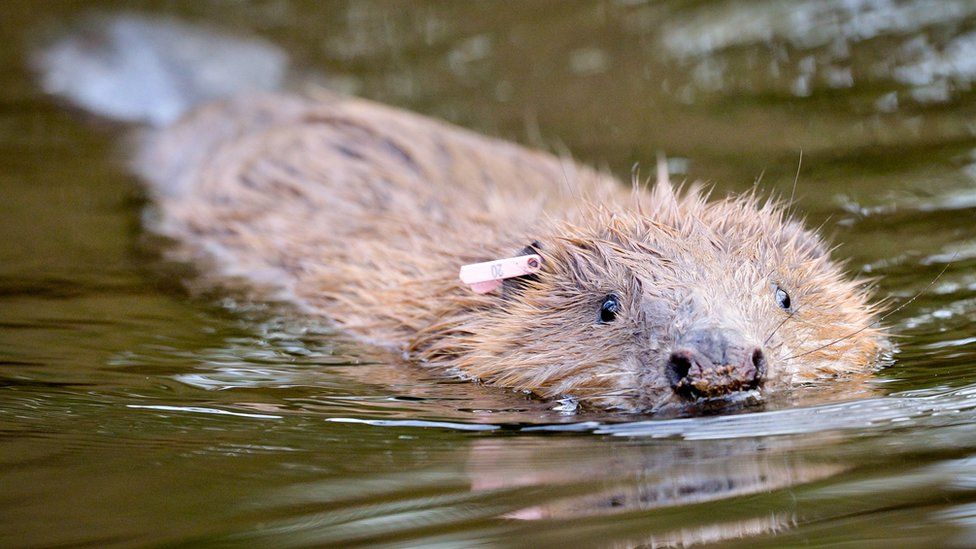 Beavers are set to be reintroduced in record numbers at sites in England and Wales.
Wildlife trusts in Derbyshire, Nottinghamshire, Montgomeryshire and the Isle of Wight are to release 20 animals into the wild.
Beavers were hunted to extinction in Britain in the 16th Century for their fur, meat, and scent glands.
It is hoped the semi-aquatic mammal could restore wetland habitats and boost other species.
Derbyshire Wildlife Trust has said it intends to release a pair of beavers and their kits - baby beavers - into a 47-hectare (116 acre) enclosed area in Willington Wetlands reserve in the Trent Valley which it hopes will help with flood defences in the area.
Wildlife Trust chief executive Craig Bennett said: "The benefits for people are clear - beavers help stop flooding downstream, filter out impurities and they create new homes for otters, water voles and kingfishers."
Nottinghamshire Wildlife Trust has said it plans to release at least four beavers into a large enclosure in the Idle Valley Nature Reserve over the summer.
It is also hoped the Montgomeryshire Wildlife Trust in Wales will release a pair of beavers into an enclosure in Cors Dyfi Nature Reserve, near Machynlleth, Powys.
Subject to a successful licence application, the Hampshire and Isle of Wight trust plans to release beavers into the reserve in the Eastern Yar on the island.
It is 20 years since Kent Wildlife Trust released the first pair of beavers into a fenced area of fenland in the county in 2001.
Since then, the animals have been reintroduced in parts of Scotland and other areas across England.
More schemes are expected in 2022, including the first urban beavers, which will be introduced into an enclosure in a 12-hectare (30 acre) site in central Shrewsbury, Shropshire.
The Wildlife Trusts want the government to make beavers a legally protected species in England, and make funding available for landowners and local management groups to reintegrate the species.
Related Internet Links
The BBC is not responsible for the content of external sites.