Florence Nightingale letters fetch £4,000 at auction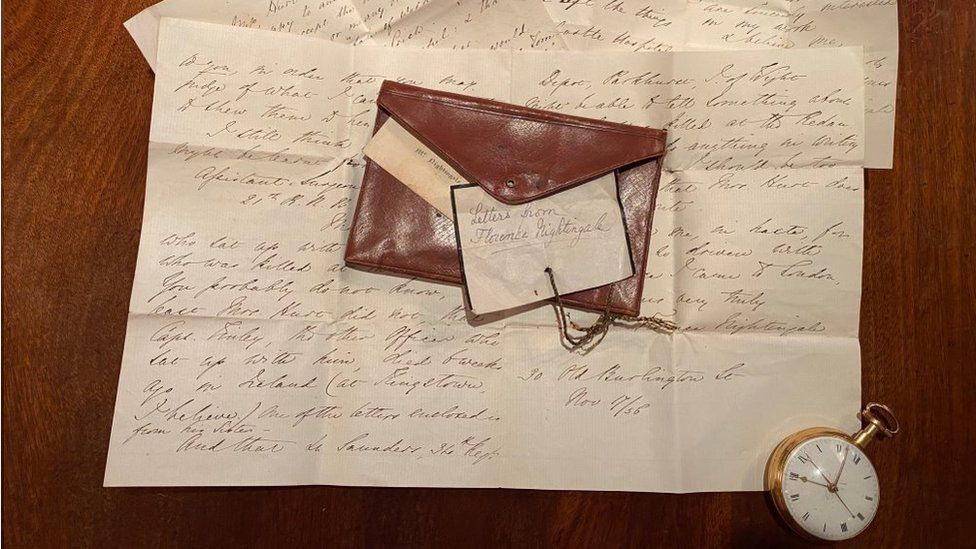 Letters from Florence Nightingale found in a library have been sold for nearly £4,000.
The cache of correspondence was found hidden in a purse found in a library at Casterne Hall near Ashbourne, home to the Hurt family for centuries.
Bamfords Auctioneers said the letters were among a number of "amazing items" found in the building when it was sold four months ago.
The earliest of the letters was addressed to the Scutari Hospital in Turkey, where Nightingale had worked, and the latest was from 1877 where she wrote about trying to find a home for a cat she ended up keeping herself.
They had originally been estimated to sell for between £300 and £500.
The Hurt family who had lived in Casterne Hall for since the 15th century had contacted Bamfords Auctioneers to take some of their antique items.
Auctioneer James Lewis said the letters were discovered in "a little, leather purse", and the link to a medical pioneer proved irresistible to the anonymous buyer.
"They are great historical things," he said.
"To have them in the family and discover them like this in a book was extraordinary.
"Florence Nightingale is obviously iconic around the world but she's a Derbyshire person.
"I drive past her family home every day on the way to work, when you go the hospital in Derby there is a big statue of her outside, so these letters are really a Derbyshire thing.
"She's iconic, and especially now in the times when the NHS is doing what it is doing."
Related Internet Links
The BBC is not responsible for the content of external sites.