Derbyshire village marks duelling death which shocked England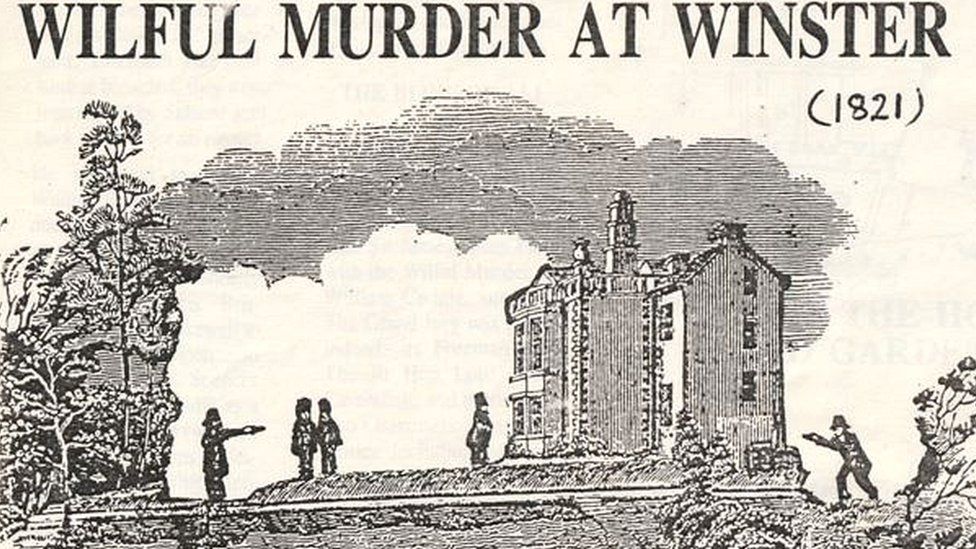 The 200th anniversary of a duel which sparked national headlines - and may have led to a church monument disappearing - has been marked.
A dispute between William Brittlebank and local doctor William Cuddie, over Brittlebank's sister, led to the latter being shot in Winster, Derbyshire.
Claims that Cuddie had been forced into the duel, and that Brittlebank managed to escape, prompted a scandal.
Actors retold the story around the village at five locations on Saturday.
Geoff Lester, who helped organise the re-enactment, said the traditional open-air performances went "brilliantly, beyond our wildest expectations".
He said about 150 people attended - abiding with government guidelines - and £520 was raised for the Jigsaw Food Bank charity.
John Geddes, a member of the audience, described it as a "smashing" event.
"Perfectly pitched, and with just the right ratio of clever and cringeworthy rhymes," he added.
According to reports of the time, the Brittlebanks - wealthy local landowners - had become outraged that a mere country doctor was courting a lady of the family.
After a confrontation while the couple were out walking, three Brittlebank brothers, William, Andrew and Francis, along with friend John Spencer, went to the doctor's house.
Mr Lester said: "Accounts vary but it is agreed that William Cuddie did not want to fight.
"But also he refused to apologise for seeing the sister, called Mary we think, so a gun was pressed into his hand and he was fatally wounded."
Duelling had long been illegal but for many years had never been prosecuted.
However, by 1821 public opinion had begun to turn and the Brittlebank brothers and Spencer were charged with murder.
But justice was far from blind, as Mr Lester revealed.
"William Brittlebank jumped bail and was never seen again," he said. "The others stood trial but were acquitted.
"As landowners, many people were beholden to the family - and many people resented them - while Cuddie was highly thought of.
"It felt to many like there was one law for the rich."
The story made newspapers across England and mass-market handbills turned the details into lurid rhyme.
"Foul deeds like these on Heaven for vengeance call, when harmless man is shot with poison'd ball," said one.
A plaque to Mr Cuddie's memory - referring to him as a "sacrifice to the rash intemperance, And misguided feelings of youth" - was erected in the local church.
But in 1840 the church was heavily remodelled and during the work - funded by the head of the Brittlebank clan, William senior - the plaque vanished.
Related Internet Links
The BBC is not responsible for the content of external sites.