Four rare hen harrier chicks fledge in Derbyshire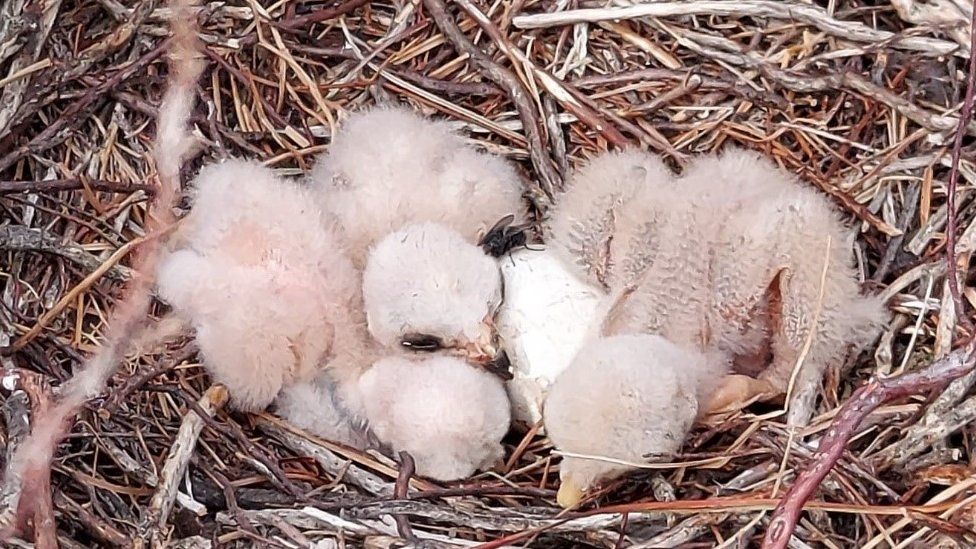 The four chicks are thought to be the first of the species to fledge in the county since 2019.
Derbyshire Wildlife Trust said the news about the birds, known as "skydancers" for their agility on the wing, was "fantastic".
Previously the protected birds of prey bred in the Peak District in 2014 and 2018.
The trust said the discovery of the nest was not announced at the time, to allow the National Trust, the RSPB and Peak District Raptor Monitoring Group to support the monitoring and satellite tagging of the chicks.
Two chicks fledged in 2019, but the trust said once they left National Trust land, their satellite tags stopped transmitting.
Trust regional manager Dave Savage said: "Four chicks is fantastic news but hen harriers should be seen frequently across North Derbyshire, instead they are struggling due to persecution and the way that the land is managed."
But the Moorland Association, which manages moorland in England and Wales for wild red grouse, reported 2021 had been "another excellent year" for hen harrier breeding across England and Wales.
It said 24 successful nests have been recorded in Northumberland, North Yorkshire, County Durham, Cumbria, Derbyshire and Lancashire, and at least 77 chicks have fledged.
Director of the Moorland Association, Amanda Anderson, said: "This is another excellent year for hen harrier breeding and the wonderful pictures and footage we are seeing from our members' moors is truly heartening."
The birds nest on the ground among the heather of upland moorlands.
Mr Savage added: "We're working hard to ensure the uplands are a much better place, for hen harriers and all wildlife.
"This year's successful nest shows huge potential if the Peak District was wilder."
Related Internet Links
The BBC is not responsible for the content of external sites.