Dog stolen from kennels six months ago found during police raid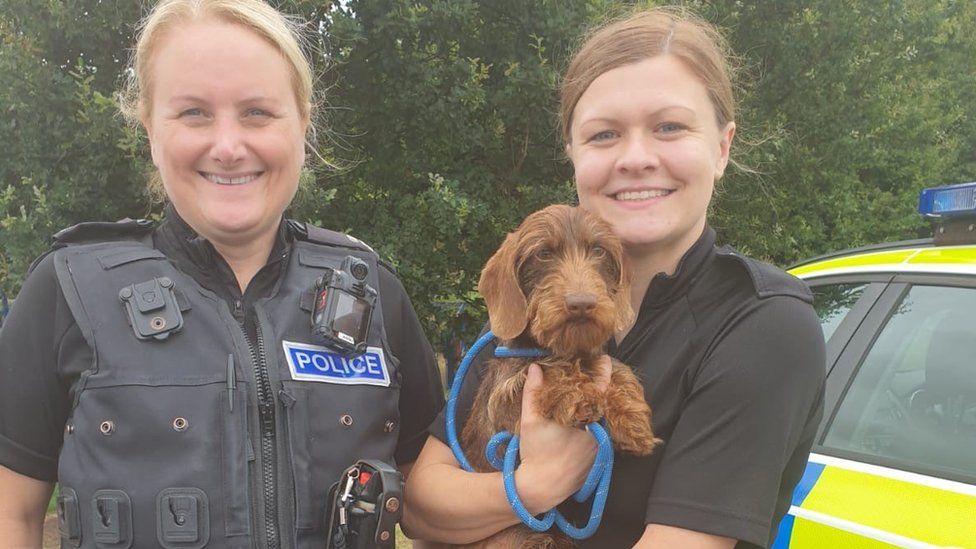 One of eight dachshunds stolen from a kennels six months ago has been found during a police raid.
Rummy was taken from Burton Road, Swadlincote, Derbyshire, on 10 February and was found at a property in Market Harborough, Leicestershire, on Tuesday.
His owner Shelley Tomsett said Rummy, the fourth of the eight dogs to be traced so far, was very thin but added she was "so happy he is home".
Police said no arrests have been made but inquiries were ongoing.
Of the three male and five female miniature wire-haired dachshunds taken, all the males plus one female have now been found.
The other two located dogs, which belong to the kennel owners, were previously found in Cambridgeshire and Northamptonshire.
Mrs Tomsett, from King's Lynn, Norfolk, has said five-year-old Rummy is so thin she can count his ribs, and that he has not stopped eating since he has returned.
She said: "He is like a hungry caterpillar. I am so chuffed he is back.
"I just want to find the others now. Two of my girls are missing."
Lisa Dean, from Beauty's Legacy - a charity that helps find lost and stolen animals - said information following their campaign led to the police finding Rummy.
She said: "It re-enforces how important it is to come forward with information as that is how we are getting them."
Leicestershire Police said Rummy was found after a warrant was carried out at a property in Welland Park Road.
"Inquires are ongoing into a potential offence for handling stolen goods," a force spokesman added.
Derbyshire Police are still appealing for information in relation to the theft of the dogs.
Related Internet Links
The BBC is not responsible for the content of external sites.