Bloodstock festival: 500 people who went to event test positive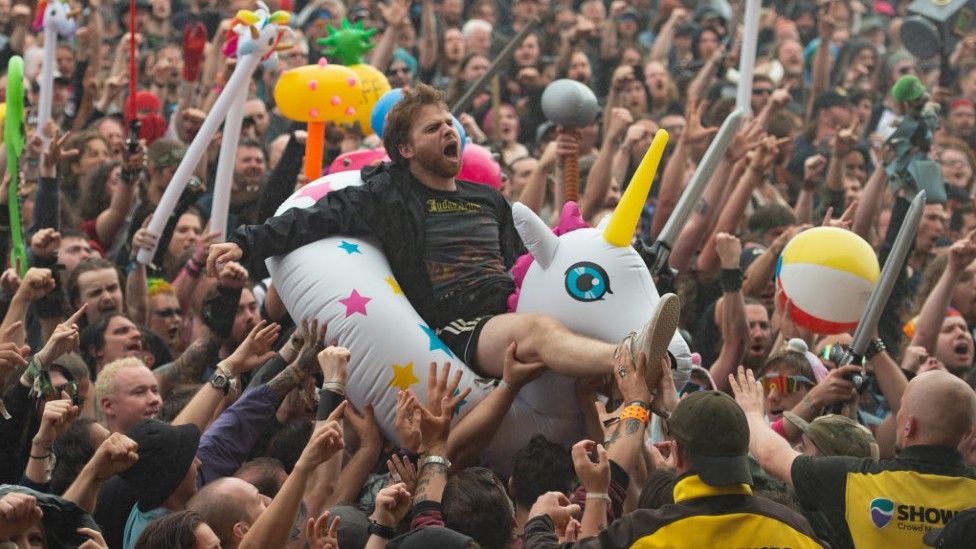 Hundreds of coronavirus cases have been reported among people who went to a heavy metal music festival.
Bloodstock took place on 11 to 15 August near the village of Walton-on-Trent, in Derbyshire.
Derbyshire public health officials confirmed about 500 people from across the country had "attended the festival prior to testing positive".
Organisers said they did "everything in their power" to lessen the risks, going beyond government guidance.
Bloodstock attracted 20,000 people this year - its largest attendance ever.
Iain Little, Derbyshire County Council's deputy director of public health, said: "So far we are aware of around 500 cases of coronavirus in people from across the country who said they had attended the festival prior to testing positive.
"There do not appear to be any increases in the number of cases locally, which we'd expect as most people stayed on the site for the duration of the event.
"Our public health team was involved in planning for the event with South Derbyshire District Council, and were happy that the festival organisers were following best practice and national guidance.
"This number of cases is a reminder that the risk of catching the virus has not gone away and we'd urge everyone to make sure they continue to take steps to protect themselves and others by getting the vaccine, and getting tested if they have any symptoms of Covid."
Rachael Greenfield, Bloodstock festival director said they were aware of the cases.
"Whilst there is no guarantee that all these cases derived from attending our event, we did everything in our power to mitigate the risk of infection and went well above and beyond the expectation set out by government guidance," she said.
"However, it is impossible to totally remove the risk of infection at any gathering, no matter whether 500 or 20,000.
"Although 500 cases is 500 more than we'd want, it's considerably lower than expected for an event of our size and we are satisfied we did everything in our power to reduce risk of infection."
Related Internet Links
The BBC is not responsible for the content of external sites.