Northern Lights captured in Derbyshire Peak District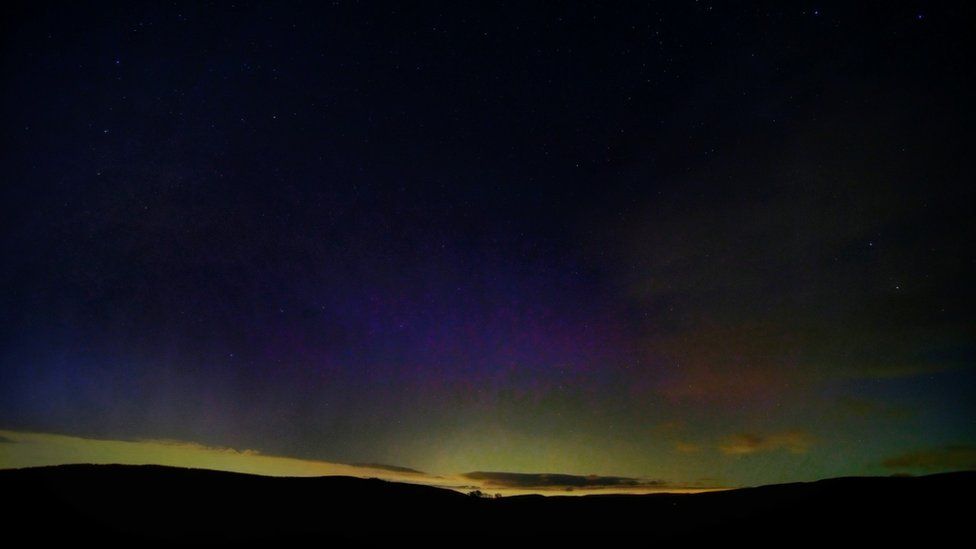 A rare glimpse of the Northern Lights has been captured in the Peak District.
Paul Smith travelled to Axe Edge Moor near Buxton during Wednesday night's solar storm in the hope of seeing the aurora borealis.
The dancing waves of light are caused by highly charged solar wind particles colliding with air molecules in the earth's atmosphere.
Mr Smith, from Macclesfield, said it was the first time he had seen them in this country.
"I've always wanted to see them in the UK - every time there's a solar storm I go out to see if I can spot them but I've never managed to get a photo of them in the past," he said.
"I used to live in Sweden for a few years so I used to see them there but the solar storm at the moment is a very powerful one.
"There's a good chance it might last until tonight as well."
Mr Smith, who runs guided walks in the national park, said the lights were not easy to see at first.
"To see them by the naked eye was actually quite difficult, partly because where I was there was quite a bit of light pollution," he said.
"I ended up driving a bit further out beyond the Cat and Fiddle in order to get a clearer view.
"Then you could just vaguely see it with the naked eye but I got my camera out and put it on a setting for light exposure to really bring it out," he said.