Royal Shrovetide Football: Sculptures to celebrate ancient game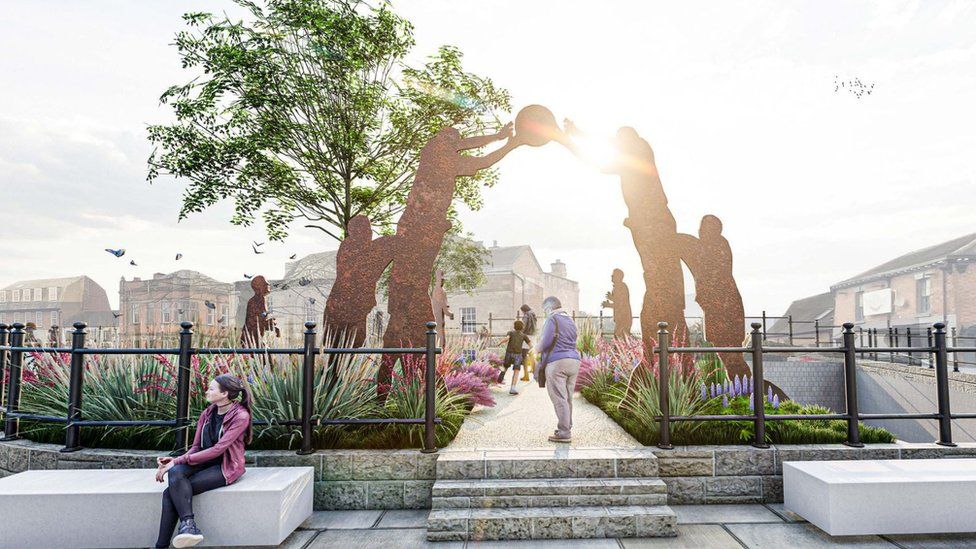 Plans to install a series of sculptures depicting a centuries-old football game in Derbyshire have been approved.
Ashbourne's annual Royal Shrovetide Football match involves thousands of rival players competing to move a ball to opposite ends of the town.
The sculptures will sit in a new community garden in the town, plans of which were approved on Tuesday.
Derbyshire Dales District Council will partly fund the project, which is expected to cost more than £100,000.
Plans for the garden and sculptures were submitted by the community interest company AshCom.
In a report written for the meeting, officers said the project would "enhance this currently under-utilised area of open space to the benefit of the local community and the character, history and context of this part of the town".
The community garden will be formed on the area of grassland in Shrovetide Walk, with a steel archway and sculpture "silhouettes" of people playing the game.
New paving is also planned, with a new "heart space" within the open part of the walkway including a dial representing elements of Shrovetide football.
The outer ring of the dial will contain the names of the opposing teams, the Up'Ards and the Down'Ards.
The second ring will contain the handprints of previous goalscorers.
The Shrovetide game starts at a plinth in the Shaw Croft car park, just metres away from the proposed garden and sculptures site.
With this in mind, seating inside the community garden will be removable, so that it can be taken away during the hotly-contested game - avoiding potential damage.
Related Internet Links
The BBC is not responsible for the content of external sites.