Torquay regeneration scaled back by Torbay council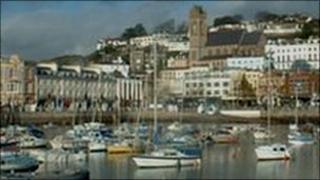 A regeneration project in Torquay has been scaled back to save money.
Torbay Council said the £36m Castle Circus scheme would now be a reduced regeneration project.
The project was to improve the Town Hall, provide meetings rooms and a cafe but will now only involve moving 16 council offices into one building.
The council said following June's budget it had to make savings of 25% over four years and needed to be "prudent".
Deputy Mayor of Torbay, Chris Lewis said: "In good times it would have been really exciting to spend £36m but we believe now is not the time to go ahead with the full blown regeneration.
"We're doing the minimal amount of work to try and reduce the number of offices we've got so we can make savings without having to spend the £36m we initially thought we would have to do.
"I think this is being prudent, we can't afford it at the moment, so lets scale it back."