Devon's snow ice and freezing weather cost £7.5m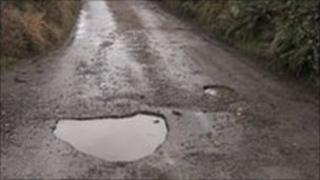 Snow and freezing temperatures over the winter cost Devon County Council £7.5m, it has been revealed.
The amount represents an overspend of £2.7m which will have to be taken from the council's cash reserves.
About 30,000 tonnes of salt were used on Devon's roads - twice the normal amount.
The council will be considering 35 recommendations to improve its emergency response if it snows heavily next winter.
Council spokesman Paul Diviana said the cost must be considered carefully.
Road damage
"If you want to sort out all the roads in Devon, I can tell you it will cost in excess of £250m," he told BBC News.
"We ain't going to get that sort of money at any stage, so what we're talking about is probably a few million to make sure the things that need to be done get done."
Following one of the coldest winters, the council said sub-zero temperatures had caused three times as many potholes as normal.
It had repair teams out every day and by March had fixed more than 7,500 potholes on its 8,000-mile (12,875km) road network.
In June, the Department for Transport awarded the council £3.6m to help repair some of the county's roads damaged by the harsh winter.