Investigation into fire at Torrington flat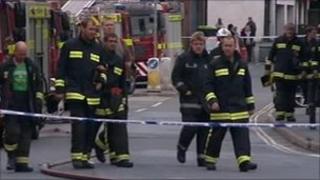 Investigations are continuing into the cause of a fire at a block of flats in Devon in which a man died.
About 40 fire officers were called to the fire on the ground floor of the flats on Calf Street, Torrington, at about 0520 BST on Sunday.
A middle-aged man was declared dead at the scene.
The man's next of kin have been informed. The cause of the fire is currently unknown.
Fire crews said they had to deal with a number of problems at the property, which was being refurbished.
They included concerns about electric cables coming into contact with scaffolding on the building.
Neil Blackburn, of the Devon and Somerset Fire Service, said: "We had to plan for the event that the scaffolding was actually live, so it did create some operational difficulties."