Lifeboat call-outs in Plymouth close to 2009 total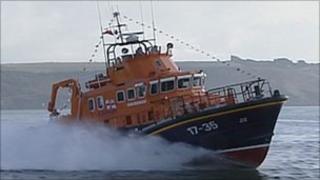 Plymouth's lifeboat station had nearly as many call-outs by mid-July as it had for the whole of 2009, the RNLI said.
Station crews, which operate two boats, have had 72 call-outs so far this year, compared to a total of 75 in 2009. Last year saw 91 people rescued.
In the past six years, the busiest has been 2008 with 93 call-outs.
The station, with two full-time staff plus other volunteers, operates a Severn class all-weather lifeboat and an Atlantic inshore vessel.
Lifeboat coxswain Dave Milford said the recent spell of fine weather could have added to the number of call-outs.
He said: "There have been surf boards, wind surfers, tombstoners, swimmers, kids in dinghies, and that sort of thing.
"A decent bit of weather and people take to the water. I think that's where it has come from."