Model cow for Hirst exhibition stolen from Torre Abbey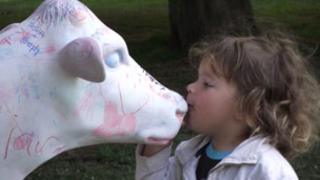 A model cow used to promote a Damien Hirst exhibition at Torre Abbey in Devon has been stolen.
The fibreglass cow was taken from outside the abbey's Spanish Barn on Monday night.
The model promotes the exhibition copy of Hirst's Mother & Child Divided which features a real cow and calf, cut in half and displayed in formaldehyde.
The council said pranksters have moved the heavy model of a mother cow several times over recent nights.
High 'steaks'
On Monday morning staff found the model "grazing" in the middle of a nearby pitch and putt green.
Despite improved security, including CCTV cameras pointed at the bovine model, it "evaporated into thin air" on Monday night.
Torbay Council has been using the cows to run a special children's competition.
The best two designs of a cow and calf in the children's competition were to be painted onto the life-sized models and featured in Torre Abbey gardens for a year.
"We are really keen to reunite the mother with the other one as soon as possible, so that all of our young artists aren't too disappointed," a council spokesperson said.
"The steaks are really high."
The council is offering a year's free entry to Torre Abbey for the safe return of the model, while the owners of a nearby cafe have offered 10 milkshakes.
"We really hope that the cow-nappers will examine their conscience and do the right thing," the spokesperson said.
The council has set up a confidential "heifer hotline" for anyone with information about the cow.