Devonport hosts French, Russian US hurricane training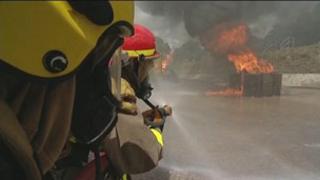 Naval personnel from around the world have been taking part in a multi-national training exercise in Plymouth, Devon.
Devonport Naval Base is playing host to ships from the US, France, Russia and the UK.
The training, on how to deal with an international disaster, included crews dealing with fires, floods, and multiple casualties.
HRH Prince Michael of Kent was at the naval base to witness the exercise.
The ships make up a task group known as FRUKUS 10. They are warships FS Primauguet from France, RFS Severomorsk from Russia, HMS Kent from the UK and USS Mount Whitney from the US.
Language differences
A hurricane disaster was the scenario for the exercise, with teams providing humanitarian assistance, medical treatment and dealing with sanitation problems.
The task group also had to cook and provide lunch for casualties and visitors in a field kitchen.
FRUKUS was originally set up in 1988 to enhance operational capabilities and understanding between the four countries.
Plymouth's Flag Officer Sea Training, Rear Admiral Chris Snow, said the objectives of the exercise this year were operating together as a task force and sharing information with each other.
"This is not easy given the different methods, language, culture and equipment nations use."