'Fairytale' wedding for bride, 22, with terminal cancer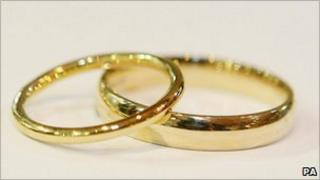 A 22-year-old woman is going ahead with plans for her wedding, despite being told she has only months to live.
Kirsty Ferris, from West Hoe, Plymouth, had acupuncture and other treatment for back pains she believed were caused by a trapped nerve.
When these failed to relieve the pain, Miss Ferris had an MRI scan which revealed she had terminal renal cancer.
Her boyfriend Richard Bare proposed within minutes of the diagnosis and the couple will marry this weekend.
Doctors at the city's Derriford Hospital believe Miss Ferris has probably had renal cell cancer for about two years.
'Borrowed time'
The diagnosis was made in December - just seven months after her father John died of prostate cancer at the age of 56.
Although Miss Ferris has been told she is "living on borrowed time", she has dreamed of a "fairytale" wedding since she was a child and she and Mr Bare have vowed to make the most of the time they have left.
Staff at St Luke's Hospice, who have been caring for Miss Harris, contacted city hotel owner Joseph Louei who offered to stage the couple's wedding free of charge.
The couple will marry on Sunday.