Job go as Devon stationery firm put into administration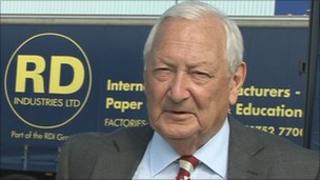 Scores of workers have been told they have lost their jobs after a Devon-based firm announced it had gone into administration.
RD Industries Ltd, based in Estover, Plymouth, told its 75 employees they were having to be let go for now as a buyer could not be found for the firm.
Workers were also told that they will not receive some of their pay.
The firm makes stationery and labels for the retail and educational sectors and supplies them to 27 countries.
'Under pressure'
At the meeting staff were told that the possibility of finding a buyer for the business fell through late on Thursday afternoon.
Roger Dymond, founder and managing director of RD Industries, said: "They know we have been under pressure for some months because we have been trying everything we can so I don't think it was as big a surprise."
Mr Dymond blamed a lack of capital for the current situation and said that the firm was trading well at the moment, but that the business had lost £1m worth of trade when the Woolworths chain of shops closed.
However, he added: "This is a day which may be the death of jobs in the company but tomorrow have good heart because we are going to try to get it [the business] back."