More farmers from Devon make call to charity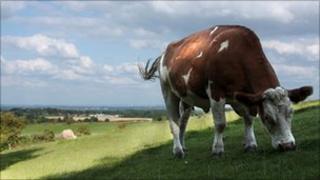 A farming charity is currently receiving more calls from Devon than any other part of England, it says.
The Royal Agricultural Benevolent Institution provides welfare advice, care and financial support to working and retired farmers and employees.
It said it was currently receiving two or three referrals a month from farms in Devon, as opposed to just one or two on average from any other area.
It said the reasons for the increase were not clear.
Going 'really tough'
The institution provides assistance for farms in England and Wales which are suffering hardship because of illness, accident or injury; or as a result of unexpected events such as an outbreak of animal disease.
It has had 14 new Devon referrals in 2010 so far, twice as many as at the same time last year. It was currently helping support 65 families, it said.
South West England regional officer Philippa Spackman said it was "very difficult to say" why there had been such an increase.
She said: "The future is bright if farmers can invest more in land and equipment, or find a new niche in the market. But not everyone is able to take advantage of those opportunities.
"If you can't invest and you're in the livestock sector, and Devon is the prime livestock and diary sector of the whole UK, the going is really tough.
"We also know that Devon has been suffering far more from the effects of bovine TB than any other county. These are all factors that can come into the equation."