Plymouth Hoe Centre 'not to be come listed building'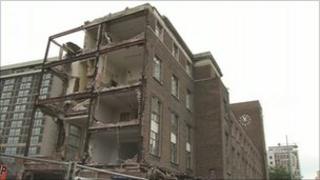 A partially demolished, well-known former armed services building in Plymouth is not to be granted listed status, English Heritage has decided.
The University of Plymouth owns the 1950s-built Hoe Centre in Notte Street.
The former Navy, Army and Air Force Institutes (NAAFI) and architecture school building had become dangerous, the university said.
Campaigners had hoped to halt the work and get the building listed because of its architectural importance.
Facebook campaign
English Heritage said the decision was taken on Monday morning not to list it.
The building originally provided a base for the NAAFI to provide catering, retail and leisure services for members of the armed forces in the city.
It was later bought by the university and housed the university's school of architecture from the 1980s until it closed in 2007.
The university said it planned to submit an application for student accommodation to be built on the site.
A campaign to save it on the website Facebook attracted 800 members.