Dartmoor incinerator decision 'has not been made'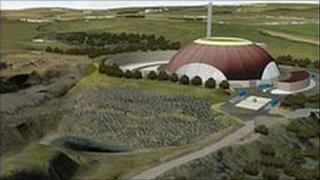 No decision has been made on approving plans to build an energy from waste incinerator in Devon, the Environment Agency has said at a public meeting.
The agency was speaking at a public surgery it held in Ivybridge into the plans for Lee Mill.
Viridor Waste Management wants to build the plant, which would burn 250,000 tonnes a year, in a former quarry.
Viridor said it believed the site was appropriate. The agency said it was still looking at data given to it.
If approved, Viridor said the incinerator near Dartmoor would produce electricity for 45,000 homes.
'Reasoned opinion'
Critics, including residents near the proposed site, have raised concerns about possible pollution and risks to health.
Viridor's technical development manager Howard Ellard said the company had been working to allay any fears.
He said: "We wouldn't be promoting this if we didn't think it was an appropriate development in an appropriate place, so clearly we are satisfied that all those concerns can be addressed."
The Environment Agency said it was still working on coming to a "reasoned opinion" before making a decision.
Judy Proctor, of the agency, said: "We need to look at the air quality data that they've submitted, we need to assess things such flood risk, water quality.
"We've yet to make a decision."
The agency said it received Viridor's permit application on 1 February and that, after checking the paperwork, it accepted the application as duly made on 19 March.
It said that although it was required to determine the application within four months, its experience showed that it could actually take up to 12 months or more before it reached a conclusion.