Habitual offender robs hours after Exeter jail release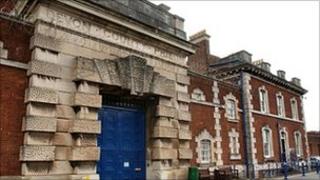 An ex-convict has been detained again after robbing a petrol station just hours after being released from prison.
Exeter Crown Court was told drug addict David Fairburn, 37, of Bournemouth, Dorset, has been jailed 72 times.
The persistent offender was armed with a pebble when he threatened the cashier at the Texaco filling station in Exeter and stole £280.
Fairburn, who admitted robbery, was remanded in custody for pre-sentence reports by Judge Graham Cottle.
Fairburn was arrested as he walked along a main road near the city's main police headquarters. The stolen cash was in his pockets.
Solicitor Peter Seigne, defending, told the court Fairburn was given a travel warrant and £46 when he was freed from HMP Exeter jail on Friday 9 July, but he immediately spent the money on drink.
He became unwell and ended up on a drip in hospital for several hours.
When he was discharged, he started to walk around the city and found the filling station.
Mr Seigne said he waited for the garage shop to empty and then threatened the male cashier after arming himself with the small pebble.
He said his client had appeared in various courts on 95 occasions mostly for shoplifting and criminal damage.
"He has been to prison 72 times," Mr Seigne said.
Fairburn had received no input from the probation service since he was sent to prison on the 12th occasion in 2002 - and had been jailed 60 times since then, he added.
Judge Cottle ordered a pre-sentence report because none of Fairburn's problems had been addressed because either no drug courses were available or his sentences were not long enough.
The judge said he would almost certainly be facing his 73rd jail term when he is sentenced.
"I am remanding you in custody - which is no surprise to you," Judge Cottle told Fairburn.