New female companion for Devon beaver who lost his mate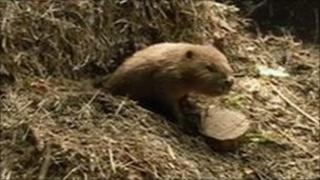 A female beaver has been transported from Kent to Devon in the hope she will breed with a pining male.
The male was one of two Beavers brought from Germany to Escot Park at Ottery St Mary in 2007.
Last year the pair produced a litter of two kits, but the female adult died recently.
Wildwood Trust in Kent is working with Escot Park to breed beavers as part of a wider conservation scheme.
The trust said beavers were "crucial" to the countryside.
"They were once an integral part of every river and stream in the whole country," trust spokesman Pete Smith told BBC News.
"What beavers do is burrow into riverbanks and create little wetlands and ponds - the ideal home for rare butterflies, birds, all kinds of moths, water voles and otters.
"They all need beavers to thrive in our countryside."
The two-acre beaver enclosure at Escot Park includes trees, banks and parks and it is hoped the new arrival will soon feel "at home" enough to allow nature to run its course.
Estate owner John-Michael Kennaway said he was delighted with how well the release of the female beaver had gone.
"She was so relaxed - she could have been a lot more nervy because she's been closed up in a box for a while - but she seemed at home straight away," he said.
The native population of beavers was hunted to extinction in the UK more than 400 years ago and there are now believed to be very few breeding pairs in existence.