Derriford Hospital job losses 'will not hit services'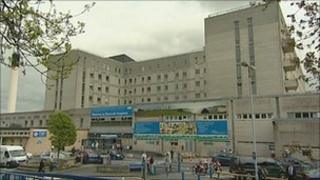 A Devon hospital has said it is unsure how many jobs will be affected by its planned £27.5m cutbacks.
Plymouth Hospitals NHS Trust, which manages Derriford Hospital and employs about 5,500 people, will decide on Friday how to make the savings.
Unions have warned that any cuts would affect services.
The trust said the NHS was facing its toughest ever financial climate "like the rest of the public sector", but said it wanted to improve patient care.
The hospital currently has an annual budget of more than £370m.
All the trust's departments were told earlier this year that they faced budget restrictions to reach a total savings target of £27m.
Bosses were told that not only must they achieve savings, but improvements had to be made to the way the hospital worked without it affecting patient care.
However, unions said that any cuts were bound to have an effect.
Stuart Fegan from the GMB union said: "I think people are going to have to accept that if these cuts go ahead that the levels of service and professionalism that our members and others have provided is simply not going to be there.
"People have to ask the question whether they are willing accept that level of service reduction."
The Plymouth Hospitals NHS Trust said: "This means we must continue to improve the quality of patient care whilst making significant financial savings.
"It is far too early to say how many posts may eventually be affected, but we are committed to working with our staff throughout any period of change."