Mother of Scarlett Keeling wants trial to help tourists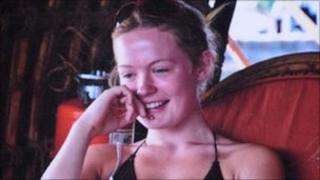 The mother of a teenager killed in India says she hopes the trial into the death of her daughter will encourage tourists to seek justice.
The body of 15-year-old Scarlett Keeling, of Bideford, Devon, was found on a beach in Anjuna, Goa, in 2008.
Her mother, Fiona MacKeown, 44, due to testify at the trial on Friday, said she hoped the case would improve the way tourists are treated.
Samson D'Souza, 30, and Placido Carvalho, 42, deny culpable homicide.
Scarlett was on a six-month holiday in India when she was left in the care of a 25-year-old tour guide while the rest of her family went travelling.
Police originally said her death in February 2008 was an accidental drowning.
However a second post-mortem examination, carried out after a campaign by Ms MacKeown, revealed Scarlett had a number of bruises on her body and had been raped.
Ms MacKeown said she hoped the case would make Goa a better place for visitors.
"There would be some kind of relief if Scarlett's death caused some good improvements to the way tourists are treated over here, because she's not the first by a long way that's been murdered over here and those people have had no justice.
"So if she made some changes, her death made some changes, some good could perhaps come out of such an awful situation."
Mr D'Souza and Mr Carvalho are also accused of grievous sexual assault and destroying evidence.
The trial is expected to continue for the rest of the year.