Phone call to mother told of Scarlett Keeling's death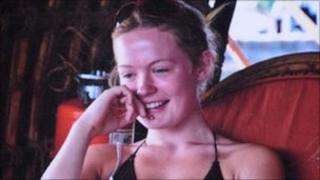 The mother of British girl Scarlett Keeling has told a court she learned of her daughter's death in a phone call from the 15-year-old's boyfriend.
Two men are accused of killing Scarlett, of Bideford, Devon, whose body was found on a beach in Anjuna, Goa, in February 2008.
Fiona MacKeown, 44, was giving evidence for the first time in the trial, at the Indian Children's Court in Goa.
Samson D'Souza, 30, and Placido Carvalho, 42, deny culpable homicide.
Mrs MacKeown told the court that she had last seen Scarlett when she left her at Anjuna beach, Goa, in the care of a 25-year-old tour guide while the rest of her family went travelling.
She said that on 18 February she received a text from Scarlett's boyfriend, Julio Lobo.
Mrs MacKeown told the court: "I called him immediately to speak to Scarlett, but Julio said I couldn't speak to her.
"I asked him why - if she was in an accident or in hospital - but he was very upset and couldn't speak to me.
"He told me that Scarlett had been found murdered on the beach and I needed to get back to Anjuna immediately."
Mrs MacKeown told the court that she had identified her daughter's body at a police station and later at a mortuary, but refused to believe that her daughter had died of accidental drowning.
She told the court: "The police told me that she had drowned while swimming, but I said I didn't believe it. She's a very strong swimmer."
The court heard that Mrs MacKeown had found her daughter's shorts, sandals and underwear behind some shacks on the beach, and given them to the Foreign Office as evidence.
She also wrote to various authorities requesting a second post-mortem examination which revealed Scarlett had a number of bruises on her body and had been raped.
Mr D'Souza and Mr Carvalho, who were arrested a month after Scarlett's death, are also accused of sexual assault, outraging modesty and destroying evidence, which they deny.
The trial is expected to continue for the rest of the year.