New Plymouth school uniform shop takes on Derry's staff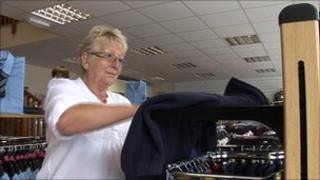 A new school uniform shop has opened in Devon to fill the gap left by a big city retail store's closure.
Derry's - formerly the Co-op - was a prominent city landmark in Plymouth from the 1950s until its closure at the beginning of the month.
For many generations of families, the store was best known for school uniforms.
Now a former manager has opened a schoolwear centre and is employing former employees of Derry's.
Ian Warmington's six new staff all worked in Derry's school uniform department.
"There are not many jobs in Plymouth at the moment, so it was a good opportunity for them," he told BBC News.
"We've had a very short time scale to get up and running for the back-to-school season, so we had to do it very quickly and it made complete sense to take on people who were already trained in the business.
"They're a very loyal team and I am very pleased to have them working in the shop with me."
Sylvia Marsh is one of the former Derry's employees to be taken on by Mr Warmington at the Trutex School ware centre and More shop in Billacombe Road, Plymstock.
She had worked for the department store for 25 years and said it was hard for her to accept the job had gone.
"It's when you walk out that building and wake up the next day and you don't have that job to go to - then it really begins to hit you," she said.
When Mr Warmington asked her if she would manage the new shop, she said the "jumped" at the chance.
"Nobody wants to be without a job if they like working and I love getting out of bed every day and going to work," she said.
If the school uniform shop is successful, Mr Warmington said he hoped to open other outlets.