Alleged killers of Scarlett Keeling 'gave her drugs'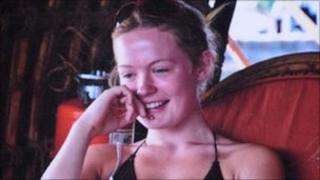 The mother of British girl Scarlett Keeling has told a court in India her daughter was fed drugs by the two men accused of raping and killing her.
Fiona MacKeown, 46, was giving evidence at the Indian Children's Court in Goa. Ms MacKeown also identified some of Scarlett's clothing at the hearing.
The body of her daughter, 15, from Bideford, Devon, was found on a beach in Anjuna, Goa, in February 2008.
Samson D'Souza, 30, and Placido Carvalho, 42, deny culpable homicide.
Rife with drugs
Ms MacKeown told the court that Scarlett had been given cocaine, heroin and ecstasy by the two local men.
She also said that Goa was rife with drugs and top local government officials were involved in the trade.
Ms MacKeown broke down when she identified a pair of dark blue shorts, white underwear and brown sandals as her daughter's belongings.
She found the clothes behind a shack on the beach a day after Scarlett's death.
Mr Carvalho's lawyer, Peter D'Souza, questioned the quality of the investigation carried out by India's premier crime-fighting organisation, the Central Bureau of Investigation, pointing out that the investigating officer had not been attending the trial.
Sexually active
He also said there was a discrepancy between the first and second post-mortem examinations where the issue of Scarlett's rape emerged.
A second post-mortem examination was held after a campaign by Ms MacKeown, who did not believe that Scarlett had drowned accidentally as the first set of tests had found.
Peter D'Souza also told the court that Ms MacKeown made false statements under oath when she denied knowing her daughter was sexually active, took drugs and used to get drunk.
Samson D'Souza and Mr Carvalho, who were arrested a month after Scarlett's death, are also accused of sexual assault, outraging modesty and destroying evidence. They deny all of the charges.
The trial is expected to continue for the rest of the year.