Plymouth Civic Centre may go up for sale in the autumn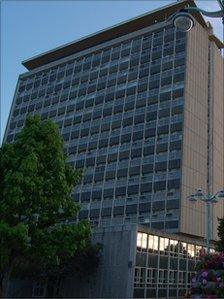 Plymouth Civic Centre may be put up for sale by the city council as part of a plan to relocate staff and save funds.
The 14-storey building, which was opened by the Queen in 1962, is the administrative centre for the council.
A Plymouth City Council spokesperson said: "We are potentially going to market the Civic Centre in the autumn."
The building, on Royal Parade, was granted Grade II listed status three years ago after being proposed by the Twentieth Century Society (TCS).
If the building was sold, it is thought that staff who are currently based at the site would relocate to Ballard House on West Hoe Road.
However, Councillor Ian Bowyer, Cabinet Member for Finance, Property, People and Governance, has told the BBC he has doubts that anyone would want to buy the building.
He said that in the "unlikely event" a buyer did come forward he thought it would be with a view to turning the building into a hotel, offices or for residential purposes.
"It's pasts its sell by date and is causing the council considerable problems in terms of keeping it maintained and safe for use," he said.
"There has been an ongoing saga over the past three years - the council has made its position clear that it would like to move from that building and redevelop the site and put something more suitable in its place.
"We have been thwarted thus far in those plans by English Heritage who listed the building in 2007 so we are now in the position that we have to maintain the building.
"It is a drain on the city's resources."
A spokesperson for Plymouth City Council added: "The council has made no secret of the fact it was unhappy with the English Heritage decision to list the Civic Centre in 2007 and the difficulties it presented as a result.
"Since then we have had to carry out repairs and have been working with specialist architects on a feasibility study for the renovation of the building with a view to establishing whether any developers would be interested in buying it.
"We are expecting to market the Civic Centre in the autumn although given the building's problems and its listed status we are not sure of likely demand."
Related Internet Links
The BBC is not responsible for the content of external sites.