Plymouth City Council job cuts 'not ruled out'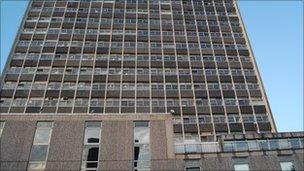 Jobs losses at Plymouth City Council cannot be ruled out as part of plans to make savings, council finance boss Ian Bowyer has said.
The council, which employs 14,000, is planning to cut £10m from its £620m budget.
Departments responsible for the elderly and young people in care have overspent by £5.7m and have been told to cut spending.
Charities and unions have said any cuts would hit services.
'Some efficiency savings'
Mr Bowyer, cabinet member for finance, property, people and governance, said: "I cannot rule job cuts out, but I think it's far too early to talk in terms of specifics."
He added: "The council has a revenue budget of £620m. It is inconceivable that there isn't some room within that huge sum of money to make some further efficiency savings. We're up for that."
Barbara Duffy, chief executive of Plymouth Age Concern, said she understood the council was dealing with financial difficulties but stressed: "Any cuts are going to affect the more vulnerable people in Plymouth, especially older people."
Darren Turner, from the union Unison, added: "Over the next few months it's going to be a difficult time.
"We will be working closely with members and we will fight to keep their jobs."
Related Internet Links
The BBC is not responsible for the content of external sites.