Jail term for Plymouth ferry port tobacco smuggler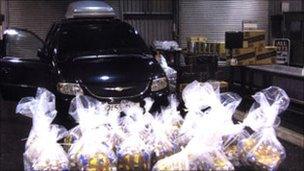 A smuggler who crammed 71,600 cigarettes and 327kg of tobacco into a people-carrier was caught when his ferry arrived in the UK, a court heard.
Razvan Moldovan, 29, a Romanian living in Spain, was stopped at Plymouth 6 August.
The smuggled goods filled almost "every space" of his Chrysler Grand Voyager, Plymouth Magistrates' Court was told.
Moldovan pleaded guilty to evading £53,000 in excise duty and was jailed for 24 weeks.
The smuggled cigarettes and tobacco completely filled the vehicle's roof-box.
More were found hidden under blankets, crammed beneath seating and in every space possible in the back of the car, magistrates heard.
District Judge Paul Farmer said: "It is almost impossible to believe all that tobacco could fit in the vehicle."
Paul Roberts, a senior criminal investigator for Her Majesty's Revenue and Customs (HMRC), said: "Cigarette smuggling is not a victimless crime, but theft from law abiding UK residents."
HMRC said the smuggled cigarettes and tobacco would be burned at a power station to fuel the national grid.
Related Internet Links
The BBC is not responsible for the content of external sites.