Torquay gang of five guilty of cocaine trafficking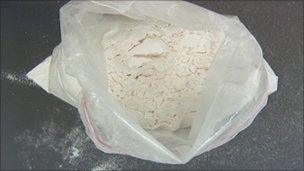 Five men who ran a drug trafficking operation in Devon are facing jail.
Cocaine with a street value of £1.8m and a hydraulic press to process it were seized from the Coach House in Torquay in June last year.
Matthew Deny, 46, of Exeter, Gerard Kirwan, 37, of Torquay, and Jon Moreton, 38, of Coventry were found guilty of conspiring to supply drugs.
Steven Dudley, 51, and Christopher Burke, 61, both of Torquay, had earlier pleaded guilty.
A sixth man - 38-year-old Jason Payne from Teignmouth - was told at the end of the trial that the Crown Prosecution Service would not be offering any evidence against him in relation to the conspiracy.
He be sentenced next month for other drug offences.
Exeter Crown Court was told the cocaine was obtained from the Coventry area and driven to Torbay to be 'cut'.
Police smashed the "sophisticated" trafficking operations after one of the biggest undercover surveillance operations ever mounted by detectives in the South West.
The gang members changed their mobile phones every two weeks to avoid being traced.
They also used phone boxes to contact each other, hired a series of cars to carry the drugs and used a false identity to rent a flat to process the drugs.
The police surveillance included planting a bug in one of their cars and monitoring their phones.
Prosecutor Paul Grumbar said: "Deny was the principal in all this and the man in charge of the operation who the others answered to and who organised it."
The five men convicted of conspiracy were remanded in custody and will be sentenced later.
Related Internet Links
The BBC is not responsible for the content of external sites.