Habitual Bournemouth criminal jailed for Exeter robbery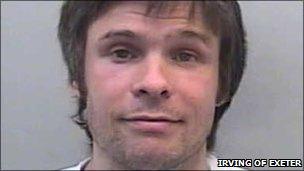 A man who robbed a petrol station hours after being released from prison has been jailed for the 73rd time.
David Fairbairn, 37, of Bournemouth, Dorset, threatened a cashier and stole £280 from the Texaco filling station in Exeter in July.
Exeter Crown Court heard Fairbairn, who earlier admitted robbery, was a habitual offender with a drug habit.
Sentencing him to 30 months, Recorder John Wright told Fairbairn: "You need some help."
The court was told Fairbairn used his £46 jail discharge cash to celebrate his release by getting drunk.
He ended up in hospital but was released and in the early hours of the morning he decided to rob the petrol station.
On his way he picked up a smooth hand-size pebble from a garden - and used it to threaten the 20-year old cashier.
Prosecutor Ann Hampshire told the court Fairbairn approached the counter and demanded all the money from the till.
"He was waving around the pebble and the cashier feared he might be struck by the rock," she said
As Fairbairn fled from the garage with the stolen cash, cashier Stevie Harper pressed the panic alarm.
When he was picked up minutes later near the city's main police headquarters with £280 in his pockets, Fairbairn told police: "It's the money from the garage."
The court heard most of Fairbairn's 95 court appearances were for shoplifting and criminal damage.
After his arrest, Fairbairn told police he may have thrown the pebble at the cash till, but he would not have attacked the cashier.
Defence lawyer Warren Robinson said it had been an impulsive and unsophisticated robbery using a "decorative garden stone the size of a hand" as a weapon .
Recorder Wright told Fairbairn: "You went into a garage wielding a stone as a weapon which was a frightening thing to do, at night.
Related Internet Links
The BBC is not responsible for the content of external sites.