Jobs lost as Auto Trader moves from home town of Totnes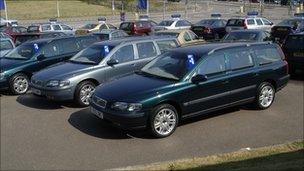 One of the UK's best known motor trading publications has closed its operation in Devon.
The first edition of the Auto Trader magazine was put together by Malcolm Barrett from his home in Harbertonford, near Totnes 25 years ago.
A short time later he moved to industrial premises in Totnes, from where it became one of the most popular trade papers.
The operation has been transferred to Cheshire, with the loss of 52 jobs.
Sally Hannaford, who worked for the firm in the 1980s, said advances in information technology means the operation is now a "far cry" from the early days.
She said she used to collect a van from Mr Barrett's home before going round garages in Devon photographing vehicles which were for sale.
Staff would then stay up until the small hours of the morning preparing the magazine.
"We all used to sit with scalpels to cut up all the photos and then you had to match their descriptions," Ms Hannaford told BBC News.
"It was such good fun, even though sometimes we didn't quite get the right description for the right car."
Auto Trader became synonymous with buying and selling second-hand cars and it went on to open numerous offices across the UK, but over recent years, they too have closed.
The company will now operate completely from its offices in Warrington.
The company has invited all its former Totnes employees to a farewell barbecue later.
Related Internet Links
The BBC is not responsible for the content of external sites.