Woman sentenced for Exeter gun threat woman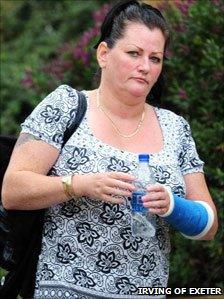 A Devon woman armed with two replica guns had a "death wish" to be killed by police, a court has been told.
A "drunk and aggressive" Christine Stafford had aimed one of her guns at an overhead police helicopter during an armed siege in May.
A police marksman finally shot the 50-year-old of Heath Road, Exeter, with a baton round, which broke her arm.
Exeter Crown Court Recorder Jeremy Wright sentenced Stafford to eight months, suspended for two years.
He also imposed a six-month night-time curfew and a two-year supervision order, telling Stafford, who admitted possessing a firearm with intent to cause fear of unlawful violence, it was her "last chance".
Prosecutor Barry White told the court Stafford had been "drunk and aggressive" when she attacked her 24-year-old son at their home on 31 May.
She then dialled 999 and spent an hour "rambling" to police and threatening to shoot herself, her son, people in the street and police officers.
Armed police were sent to the area and the force helicopter scrambled, Mr White said.
Stafford was seen in her back garden with two pistols - one of which was pointed at the helicopter.
Mr White told the court the weapons were replica Beretta and Browning guns belonging to her son which "looked real enough".
After finally obeying police instructions to drop her weapons, an officer moved towards her, covered by a marksman.
When Stafford then attempted to pick up one of the discarded guns, a baton round was fired at her, breaking her arm.
During a police interview Stafford said her "motivation was to be shot and killed by a police officer".
Nick Bradley, defending, said his client did not underestimate the gravity of the situation she created.
He said: "She never intended to cause to anybody else whatever she said in the phone ramblings."
Mr Bradley told the court the professionalism of the police officers' conduct was to be commended.
"Mrs Stafford is very grateful that she is here today to face this allegation," he added.
The recorder also praised the professionalism of police.
After sentencing, Det Con Claire Drinnan made reference to the recent Cumbrian shootings and said it showed such offences had to be taken seriously.
"You can never take a risk when you do not know that a weapon is an imitation firearm," she said.
"This was the colour, shape and size of a real gun."
Related Internet Links
The BBC is not responsible for the content of external sites.