Shops in Teignmouth given anti-counterfeiting advice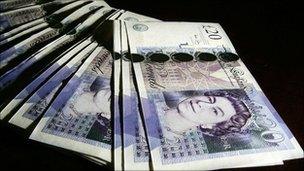 Shop staff are being offered training on how to spot counterfeit cash after a number of fake £20 notes were passed in a Devon town centre.
Police said the copies found in Teignmouth were very good and could easily have passed for genuine notes.
However not all the town's outlets and charity shops have the ultraviolet light or paper currency pens which pick up forgeries.
Pc Jim Beedall said education was the best form of prevention.
"This is an ongoing problem for shop owners and we will do as much as we can to help.
"Offenders do seem to target smaller and charity shops, but once someone knows what to look for it is not hard to spot them even though some are very good."
Pc Beedall said a genuine Bank of England notes are slightly embossed at the top, which can be felt.
"Also, if marked with money-marking pens, the ink will not leave a mark on a real note so if a mark is left the note is a fake," he added.
A number of businesses in the town have already contacted the neighbourhood police office in the town's Wellington Street, Teignmouth, for advice.
Related Internet Links
The BBC is not responsible for the content of external sites.