Barnstaple fire: Stabbed woman 'had called police'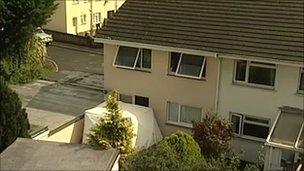 One of two women who was found stabbed to death had called police to report that a man had breached a harassment warning notice days earlier.
The body of Deborah Jones was found with that of Donna St John in a house in Barnstaple, north Devon, following a fire at the property on Sunday.
Ms Jones had called police two days before over harassment concerns.
The Independent Police Complaints Commission (IPCC) was informed, Devon and Cornwall Police said.
Officers believe Ms Jones and Ms St John, both aged 35, were killed in the kitchen of the property in Fortmead Close and the house was then set on fire.
The force said that a man did receive a harassment warning notice in mid-August, and on 20 August one of the victims told officers it had been breached.
It said harassment notices were used as a means to record someone's behaviour and as a warning for them to stop a particular behaviour.
Devon and Cornwall Police said that the matter was voluntarily referred to the Independent Police Complaints Commission on the day the bodies were found.
The force said that the IPCC was content for the matter to be investigated locally.
Fifty officers from across Devon and Cornwall, including members of the major crimes team, are investigating the case.
Forensic examinations of the property are expected to last for much of the rest of the week.
Police are also guarding a 40-year-old man in hospital, described as a suspect in the murder investigation.
The man, who has not been arrested, is in a serious but stable condition at North Devon District Hospital. Police have so far been unable to interview him because of his injuries.
Officers are also supporting the victims' families.
Det Insp Mike West, of Devon and Cornwall Police, said: "We'll be with them for as long as they believed it's necessary."
Detectives are still waiting for the results of post-mortem examinations.
Related Internet Links
The BBC is not responsible for the content of external sites.