NHS paying for Devon man's cancer treatment in Germany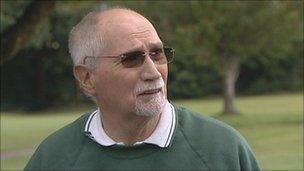 A cancer patient Devon is to have a course of treatment in Germany paid for by his local NHS.
Ron Bonfield, 71, of Frithelstockstone, near Torrington, was diagnosed with asbestos-related mesothelioma - cancer of the lung lining - 18 months ago.
He had paid for rounds of therapy himself in Germany, spending more than £20,000 in total.
NHS Devon said Mr Bonfield had gained clinical benefit from the treatment.
The chemoembolisation treatment involves injecting drugs directly into a tumour.
That particular treatment is not approved in the UK for treating mesothelioma.
The NHS is to pay for what is due to be Mr Bonfield's final round of the treatment.
Mr Bonfield said he was very happy with the news because he would have been "struggling" to finance the trip to Germany himself.
He said: "I'd have to go to the family and start asking them, embarrassingly, to help me out."
NHS Devon said that all applications for such funding would be considered in the light of the government's announcement that extra money would be available for some cancer drugs if they were recommended by a patient's doctor.
Related Internet Links
The BBC is not responsible for the content of external sites.