Paignton Zoo celebrates giant capybara birth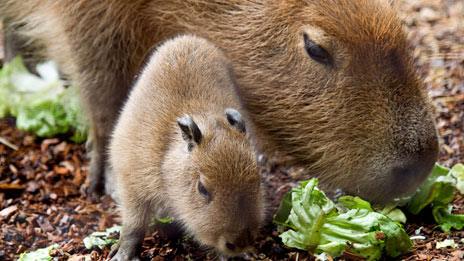 The world's largest rodent species has given birth at a Devon zoo.
The baby capybara, which has not yet been sexed, was born at Paignton Zoo on Wednesday.
Sometimes called the giant guinea pig, the capybara comes from South America and can grow up to 1.3m (4ft) in length.
It is the first offspring of two-year-olds David and Davina, who were brought to the zoo last year as a breeding pair.
The zoo's gardens department has been growing water hyacinths for the capybaras as it is one of the main parts of their diet in the wild.
They are found on grassland and in tropical rainforest, but spend much of their time in the water.
Because of this their eyes and nostrils are on the tops of their heads so they can stay submerged with very little of their body showing.
Weighing as much as a human adult, the oversized, pig-like animals are highly adapted to an aquatic lifestyle and even mate in the water.
Capybaras are not currently on the endangered species register, but captive populations are being managed co-operatively in British and Irish zoos.
Related Internet Links
The BBC is not responsible for the content of external sites.