Crackdown on misuse of Salcombe and Kingsbridge Estuary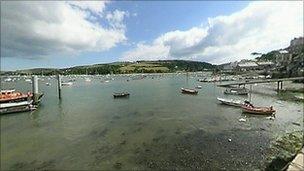 Boat owners who flout the law and speed along the Salcombe and Kingsbridge Estuary are being cracked down on.
Patrols have been increased at the estuary and penalties including warnings and fines are being enforced.
Salcombe Harbour Authority (SHA) said speeding damaged the estuary's marine habitat and turbulence could wash breeding birds from their nests.
SHA said the speed limit was eight knots, and six knots between the Salcombe Hotel and the Saltstone.
It also said that water skiing, wakeboarding and the towing of inflatables were all prohibited within the harbour limits.
Salcombe Harbourmaster Ian Gibson said: "The area of sheltered water between Bar Lodge and the Great Eelstone Rock has for some time been used illegally for water skiing.
"Obviously the leading line and illegal water skiing are incompatible, vessels following the leading line do not expect to have high speed craft and people on skis weaving around them."
Related Internet Links
The BBC is not responsible for the content of external sites.