Cattedown harbour sewage warning after storm damage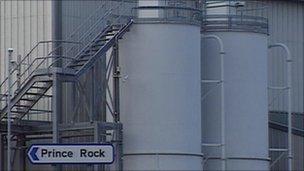 Storm damage to water treatment pumps has increased the risk of sewage overflowing into a Devon harbour.
South West Water (SWW) said three of the four main pumps inside a 40m (131ft) well at Plymouth central waste water works would have to be replaced.
Temporary replacement pumps and cables are due to be installed on Friday, to increase the pace at which sewage can be pumped out of the well.
But sewage could discharge through the storm overflow at Cattedown.
SWW said there would be an increased risk for about two days, but staff would be "working around the clock" to minimise it.
Spokesman Richard Gilpin said: "This is a very delicate and difficult repair operation which will take some time.
"We believe it is responsible to warn all water users there may be discharges at Cattedown until Plymouth Central is working at normal capacity again."
Related Internet Links
The BBC is not responsible for the content of external sites.