Fake barrister flees court after judge's questioning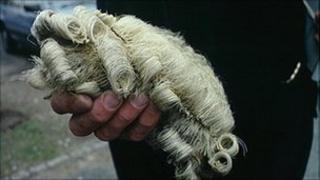 A man posing as a barrister fled a court in Devon when a senior judge became suspicious of him.
Judge Stephen Wildblood asked some basic legal questions which the man could not answer when he appeared before him at Plymouth Crown Court.
Judge Wildblood said he was suspicious because the man, who gave his name as David Evans, wore a barrister's wig with a solicitor's gown.
The judge said he had informed the Crown Prosecution Service.
There are about 60 barristers called David Evans operating in the UK.
The man, who gave his address as a printing house in London, was appearing at a preliminary defence hearing.
After failing to answer the judge's legal questions, he was asked if he was a solicitor or barrister.
The man replied that he was not before fleeing the court.
Wilfully pretending to be a barrister became illegal under the Legal Services Act 2007.