Torbay kerbside recycling 'to save £14m each year'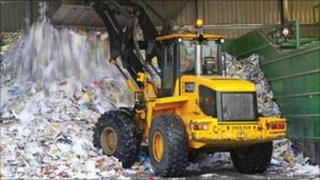 A controversial new recycling scheme has begun operating in a Devon resort.
About 60,000 householders in Torbay will be required to sort out more of their own rubbish for kerbside collections.
Tor2, the company operating the scheme, said the aim was to recycle 50% of all waste by 2012, saving an estimated £14m in landfill costs each year.
Residents claiming the scheme is too complicated have inundated Torbay Council's call centre with complaints.
The council said the savings would come from reducing payments in taxes and fines for exceeding the amount of waste it is allowed to send to landfill.
Previously, householders had two wheeled bins - one for recycling and one for general waste - which were collected on alternate weeks.
Delay apology
Under the new scheme, there will be one box for glass, cardboard and foil; another box for paper, cans, mixed textiles, plastic bottles and aerosols and an indoor and an outdoor bin for food waste.
The recycled material will be collected weekly.
Torbay Council said the change will bring it into line with other local authorities in the South West.
Tor2 is a new company set up jointly by May Gurney and Torbay Council.
Its chief executive Andy Muncer said the new scheme would help the council hit the recycling and waste targets set by the European Union.
He apologised for the delay residents had experienced trying to contact the call centre and said staffing levels have been increased.
Tor2 will continue to offer assisted collections for disabled or infirm residents.