Devon planners target young with spoof video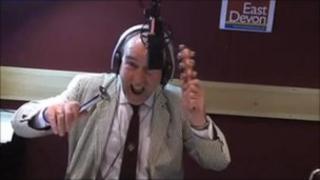 A Devon council is using a spoof video to explain its planning policies.
East Devon District Council has produced the 50-second film "We Plan Anywhere", based on a national car sales television advert.
It has been uploaded on YouTube to promote planning policies and is aimed specifically at younger people.
The council said the low-budget production cost "a tiny fraction" of the price of sending a letter to each of East Devon's teenagers.
Council spokesman Nick Stephen said the idea was put forward at a "creative brainstorming session to shake up the rather dull image of planning".
The role of newsreader in the video was played by Sidmouth councillor Stuart Hughes - a former member of the Monster Raving Loony Party.
"A little bit of me still hankers after the old days when we used to have lots of fun in the name of politics," he said.
The council said the spoof video was given the blessing of the auto dealer whose catchphrase it imitates.
The video was filmed, produced and directed at studios in Exmouth, with the soundtrack and vocals provided by local people.
Mr Hughes said the council was keen to engage with young people on its local development framework (LDF) proposals.
Important message
"After all, the shape of East Devon in 2026 is our legacy to them and we must ensure the homes and jobs are there for youngsters who want to remain in East Devon and bring up their own families," Mr Hughes said.
"The LDF is being promoted on social networking sites Facebook and Twitter and the YouTube video is just the icing on the cake.
"It shows that you can have fun with a serious subject like town planning and hopefully the important message will get through that we want to hear young people's views on our proposals"
The council said hundreds of people have viewed the video since it was uploaded on Tuesday.
"It's certainly generated a huge amount of interest and that's exactly what we intended," Mr Stephen said.